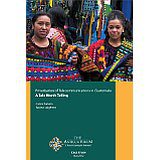 Why Study the Guatemalan Telecom Reform?
In 1996, Guatemala adopted one of the most pro-competitive, market-liberal telecom laws in the world, granting property rights to spectrum and opening the market fully to competition. Critics said that such a radical approach to reform would cause "chaos" in the market. It didn't happen. Rather, competition surged, prices plunged, and consumers benefited. This case study tells the story of how this reform came about in the face of serious doubt and significant opposition.
About the Antigua Forum
The Antigua Forum is a project at Universidad Francisco Marroquín designed to promote market-liberal reform in order to improve human well-being. The project has two core components. The first is an annual gathering of reformers, intellectuals, and entrepreneurs with projects that disrupt existing inefficient models and institutions. The second is a set of complementary resources, including case studies.
Carlos Sabino is professor of sociology and history at Universidad Francisco Marroquín (UFM). He has spent decades researching economic and political issues in Latin America. Among Carlos's acclaimed books are The Failure of Interventionism; Building Consensus for a Free Venezuela; and a two-part study of Guatemala's civil war, Guatemala: The Silenced History.
Wayne Leighton is professor of economics at Universidad Francisco Marroquín and executive director of the Antigua Forum. He previously spent ten years in senior advisory positions at the U.S. Federal Communications Commission and the U.S. Senate Committee on Banking, Housing, and Urban Affairs. Wayne is co-author, with Edward J. López, of Madmen, Intellectuals, and Academic Scribblers: The Economic Engine of Political Change.