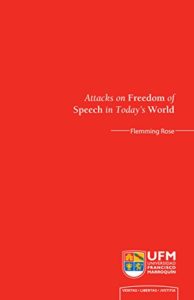 UFM's 2017 Inaugural Lesson focuses on freedom of expression, which today is increasingly under attack. Flemming Rose was the foreign affairs editor and culture editor at the Danish newspaper Jyllands-Posten. He was principally responsible for the 2005 publication of controversial cartoons of the Prophet Muhammad. Since then he has been an advocate of free speech, warning against the dangers of artists self-censoring their work due to fears of violent reprisals.
In this address, Rose looks at the state of freedom of expression around the world and examines the biggest threats it faces today, including efforts to criminalize hate speech and fake news.
Rose also discusses tolerance and concludes that the debate surrounding freedom of speech and its limitations comes down to our ability to manage diversity and disagreement.